Testimonials
Jo Is The Best!
If you are looking for an interior designer who will capture who YOU are as a person, stay within your budget, provide superior communication, listen attentively and is positive and enthusiastic about her work, then look no further.
I can't imagine having a better experience than the one I had with Jo from Great Spaces. She is simply awesome and you will be thrilled with her work.
~ Dave Dee
---
Jo remodeled my whole kitchen complete with all new appliances, granite countertops and solved a big problem by enlarging the space for a new double oven. She had the whole inside painted lovely colors. This was a large undertaking in a 9,000 sf home. She even worked the backyard to open up a better view of the golf course and creek. She is professional, caring and works so hard to get the absolute best pricing. She is so knowledgeable about color, materials, soft and hard products. She gives more than 100% to her clients. Very pleased.
~ Betty Martin
---
Hi Jo, Hope you had a good weekend. I just had to send you a text and tell you how amazed and thrilled Kurt and I were with what you picked for our bathroom. Different. Unique. Never seen before. Beautiful Perfect combo of affordable products with some high end details. We were thrilled!!! Thank You.
~ S. Gustafson
---
Jo is a spectacular decorator!
~S. Rawson
---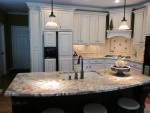 Jo helped us remodel our kitchen and laundryroom. She was great at listening to our needs/wants and gave us the best outcome in space, creativity and color. I would definately use her again.
~ J. Fetzek
---
I have known Jo since we were neighbors and best friends 15 years ago in Las Vegas, Nevada. She transformed my home into warm and inviting, where people feel at ease. Three years ago, she returned to up-date my master suite which I love. She is one of the most honest and sincere persons I have known and will give you 100% to help you attain the home you wish for.
~ Judy T, Las Vegas NV
---
Jo has been my decorator for over 20 years and she always will be. I bring her with me when I move because she is wonderful, changes with the times but is not trendy. She seems to be able to work from anywhere and even though she doesn't live in my city, she finds good people to make things happen! I am moving again and have already booked her ticket!
~ Ann Hearin Miami, Florida
---
Jo is absolutely wonderful to work with. I have definate ideas of what I like and don't like, but no idea how to put it all together. Jo can take ideas I have work with them, tweak them when they don't quiet work so it all turns out perfect. She has helped with, master bath remodel, hearth room and minor kitchen including built in bench seating. We did a porch, patio and pool over summer and Jo helped me with all the furniture choices. Ordered and anxiously waiting. It should turn space into outdoor oasis!
~ L Kuczmanski MD.